Here's What Aaron Kaufman From Gas Monkey Garage Is Doing Now
6 min read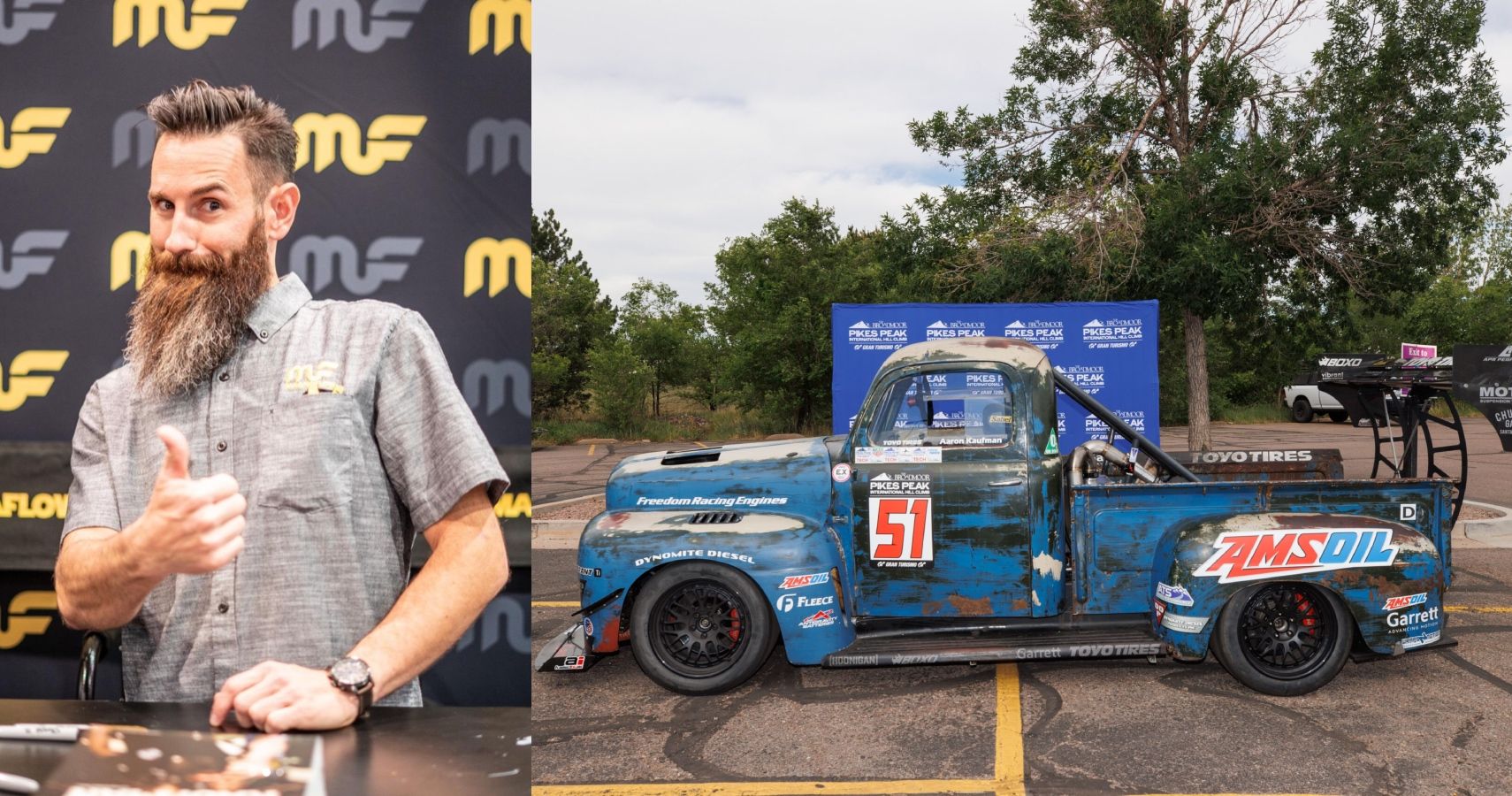 For plenty of TV celebrities, it seems life goes downhill after their series goes off the air. But for a few, it seems like their celebrity only gets stronger. A classic case-in-point is fabricator and hot rodder Aaron Kaufman, who shot to fame in the 2012 Discovery reality series Fast N'Loud. He was one of the founding members of the Gas Monkey Garage headed by the larger-than-life personality that is Richard Rawlings.
Updated April 2023: We've updated this article with the latest updates from your favorite fabricator from the Gas Monkey Garage, Aaron Kaufman, including rumors of a new project involving the most famous highway in the US, Route 66.
Kaufman left the show in 2017 citing personal differences with Rawlings. At this point, Kaufman founded a boutique restomod shop called Arclight Fab in Dallas, Texas that specializes in building 1957-79 Ford F-100 trucks, or essentially all generations of this American icon. The Bearded Wonder (as he's popularly known, for obvious reasons) went a step further with another Discovery reality series Shifting Gears, this time as the boss and star.
While Arclight is his day job, Kaufman also decided to return to the Pikes Peak hill climb. He got his first taste of it back in 2013/14 when he was still part of the Gas Monkey Garage, in a fully-built 1963 Ford Falcon. In 2022, he went back to the world's most dangerous hill climb event, this time behind the wheel of a 1949 Ford F1, nicknamed Old Smokey. Kaufman is now a brand ambassador for exhaust systems specialist MagnaFlow, and is deeply entrenched in the car-building scene. Which is exactly where he deserves to be!
RELATED: 10 Coolest Cars Owned By The Cast Of Fast N' Loud
Aaron Kaufman: The Bearded Wonder
This brilliant mechanic got his first big break on a TV series known as Fast N' Loud. It was a reality-styled Discovery TV show featuring Richard Rawlings and his crew from Dallas, Texas. In this series, Richard would search for tired, rusted, and rundown cars, the crew, headed by the lead mechanic, Aaron, would restore them and more often than not modify them, and then Richard would sell the cars for a profit.
Some of those who watched Aaron tear rusty wrecks apart and fit them with airbag suspension and large wheels in the Gas Monkey workshop for many seasons might be wondering where Aaron Kaufman is now.
What Happened To Kaufman After He Left Gas Monkey Garage
Aaron left the show and Gas Monkey Garage in 2018. Many viewers got upset to see him go, and there was a lot of speculation around why he left in the first place. Let's take a look at the reasons why he left and where he is today.
In an interview with Art Of Gears, Aaron opened up about why he chose to leave the show as well as the garage as a whole.
"I wanted to build cars that were that big or bigger, and then TV needed cars that were much smaller than that. On top of that there were some growing personal issues and professional differences of opinions and so I decided the time had come and I could see the fork in front of me."
If you're a fan of the show, this move makes sense. When it comes to TV shows, there are time restrictions imposed on the crew to get builds done. With that said, it makes sense that they would not have the time to build something that is one of a kind and that is hard to build from the start due to the time that has to get put into the build itself. Aaron was a workaholic, but had to put in over 110 hours to get some of the builds done in time.
RELATED: 13 Little-Known Details About Aaron Kaufman Of Gas Monkey Garage
Aaron also wanted to branch out and create his own shop. So leaving Gas Monkey Garage allowed him to do what he was truly passionate about. Kaufman set about gathering a team of like-minded mechanics and Arclight Fab was born.
Did Aaron Kaufman And Richard Rawlings Fall Out?
On air, these two had a 'bromance' that a lot of guys were probably jealous of. The question is, however, since Kaufman left the set of Fast N' Loud and left the Gas Monkey Garage altogether, the question remains whether he is still friends with Richard Rawlings.
Even though Kaufman and Rawlings had creative differences towards the end of filming together, Kaufman made it very clear that he did not have any personal issues with Rawlings. The two of them are reportedly still friends to this day.
RELATED: 9 Awesome Cars In Richard Rawlings' Collection
Everything You Need To Know About Arclight Fabrications
Arclight Fabrications was opened to the public in 2017. Kaufman made it very clear from the start what types of projects his shop would specialize in. As we said earlier, Kaufman wanted to focus on the bigger projects that take more time to build but will be one of a kind.
With that vision in mind, Arclight Fab focuses mainly on a vintage Ford F-series. The shop has moved premises, however, but it is still up and running. It is still located in Dallas, Texas.
RELATED: 10 Mistakes Aaron Kaufman Should Have Never Made (And 10 Unmatched Masterpieces)
Shifting Gears With Aaron Kaufman
After Aaron Kaufman opened his own auto shop, Arclight Fabrication, he starred in another TV show, Shifting Gears With Aaron Kaufman. Here, Kaufman would push his skills as a mechanic and designer to another level. Working with a handpicked crew of builders from around the country, they had one goal for every build they churned out; to maximize performance. The show aired over two seasons, and it's received mostly positive reviews.
While we still await for a third season of Shifting Gears with Aaron Kaufman, the Bearded Wonder had another show called Aaron Needs A Job that premiered in 2019. In the show Kaufman is a boss at building cars, but he manages to do jobs that he is not trained in. While the show received promising reviews initially, the format and script of the show became quite predictable.
Further to that, Kaufman has been fairly active in the racing scene. Kaufman competed in various racing events on camera in his various shows. However, he raced in two rounds of the Stadium Super Trucks series. He is also a regular at Pikes Peak, and even drove the iconic hill climb event in 2022 in a monster Ford F-1 race truck.
Net Worth Of Aaron Kaufman From Fast N' Loud
We know Aaron Kaufman for his work on Fast N' Loud, Aaron Needs A Job, Shifting Gears With Aaron Kaufman, and his own shop Arclight Fabrications, but few might know that Aaron was also one of the producers on his own show. All of that said, Aaron Kaufman is worth $8 million, according to Celebrity Net Worth's latest updates.
As you can see, Aaron has had an amazing life and career so far. He also does some development work with tuners, Lyfe Motorsport and Sierra Cars. Sierra builds single-seat, center cockpit recreational vehicles, one of which Aaron tested at Pikes Peak a few years ago.
Additionally, going by a comment from a fan on a YouTube video detailing his life and career, Aaron appears to be working on a new project centered on America's most famous road, Route 66. We cannot wait to see what he does next, and we hope that he will be on your screens once again very soon.