UAW talks: Deadline to reach contract negotiations passes, union workers strike against all Big Three automakers
7 min read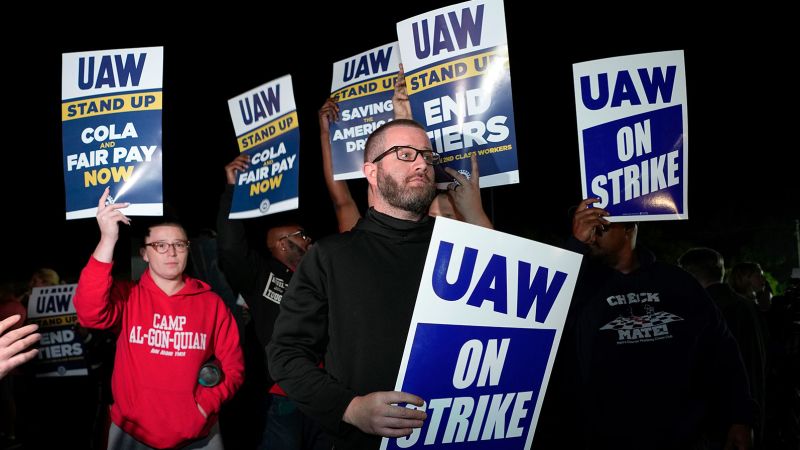 Detroit
CNN
 — 

The United Auto Workers union is on strike against General Motors, Ford and Stellantis, the first time in its history that it has struck all three of America's unionized automakers at the same time.
Workers on Friday walked out of three plants – one each from the Big Three automakers – in Missouri, Michigan and Ohio. Picketers were met with cheers from sign-waving union members.
The UAW referred to its targeted strike of three plants as a "Stand Up Strike," which it called a strategic "new approach" to walking off the job.
"As time goes on, more locals may be called on to 'Stand Up' and join the strike," the union told members. "This gives us maximum leverage and maximum flexibility in our fight to win a fair contract at each of the Big Three automakers."
The UAW's strikes began at GM's Wentzville Missouri, which has 3,600 UAW members on its staff; Ford's Michigan Assemby plant in Wayne, Michigan, which will have 3,300 strikes; and Stellantis' Toledo Assembly complex in Ohio, where 5,800 will be be on strike.
In all, fewer than 13,000 of the UAW's 145,000 members walked off the job.
"These were chosen carefully by the UAW and reflect a strategy that will ensure a large number of suppliers and dealers are affected, while reducing the number of UAW workers that, at least initially, are on strike and receiving strike pay," said Patrick Anderson. CEO of Anderson Economic Group.
The strike came after the automakers scoffed at the union's ambitious demands for increased wages, benefits and job protections for its members. With all three automakers reporting record or near-record profits, the union was trying to recapture many benefits they had been forced to give up more than a decade ago when the companies were cash starved and on the brink of bankruptcy.
The automakers all offered the union double-digit pay hikes but it was not enough to meet the union negotiators' demands.
"I gotta look out for the people that are coming up behind me right now," Scott Fox, a striking worker at Ford's Michigan Assembly plant in Wayne, Michigan, told CNN's Vanessa Yurkevich Friday.
In a statement, GM said it was "disappointed" but would continue to bargain.
"The UAW has informed GM that they are on strike at Wentzville Assembly in Missouri as of 11:59 pm. We are disappointed by the UAW leadership's actions, despite the unprecedented economic package GM put on the table, including historic wage increases and manufacturing commitments," the statement read.
"We will continue to bargain in good faith with the union to reach an agreement as quickly as possible for the benefit of our team members, customers, suppliers and communities across the US," GM said.
In an interview with CNN, General Motors CEO Mary Barra said she's "frustrated" with the autoworker strike that began overnight, and said that her company has a "very compelling offer" for the union.
"I think we have an offer that resonates with our people," Barra told CNN's Vanessa Yurkevich, saying that the offer includes pay raises up to 21%, job security and healthcare. "Our team is ready to be at the table… and we need UAW leadership to get back to the table so we can get these issues resolved and get people back to work."
But Barra pushed back against the union's charge that the workers are looking for a fair pay increase which would nearly mirror her pay increases in recent years, pointing to profit sharing for employees which has hit record levels the past the few years. She also said that the union's demands should be "realistic," and not total more than $100 billion, which is more than double of GM's market cap.
Stellantis, meanwhile, said it has put the company in "contingency mode."
"We are extremely disappointed by the UAW leadership's refusal to engage in a responsible manner to reach a fair agreement in the best interest of our employees, their families and our customers," the company said in a statement.
Ford CEO Jim Farley told CNN late Thursday that the company couldn't afford all of the union's demands. UAW President Shawn Fain early Friday told CNN that the Ford CEO's claims were "a joke."
The strike, while unprecedented, is less extensive than had been expected only two days ago, when it appeared that all 145,000 UAW members at the three companies could be hitting the picket lines. That would have been the nation's largest strike of active workers in 25 years.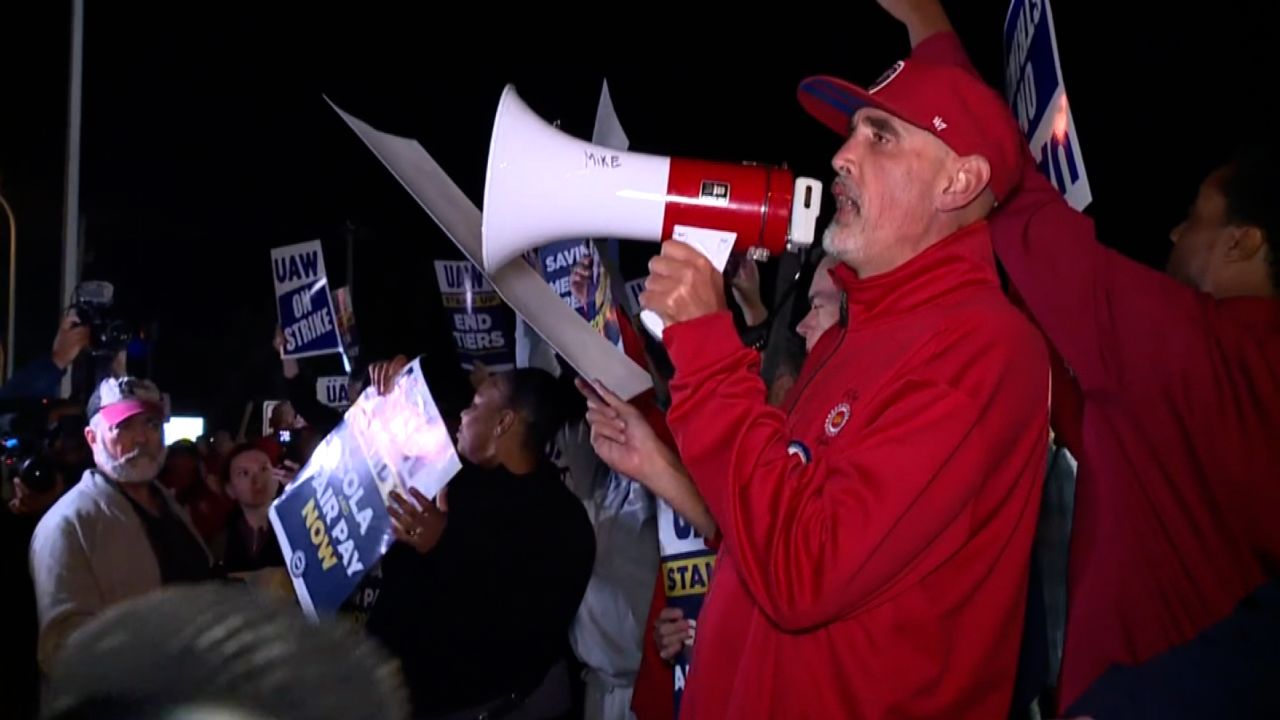 Many auto industry observers had expected the union to target plants that supplied parts to multiple plants at a time. That way all of the three companies' 25 assembly plants could have been starved of the parts they needed to operated and production could have ground to a halt with only a relative handful of plants on strike, perhaps as few as two per company.
But the UAW's selection of plants will allow the other 22 assembly plants to continue to turn out cars and trucks and for their workers to stay on the job.
"This is not what I was expecting to hear tonight," said Jeff Schuster, global head of automotive for GlobalData, an industry consultant. "It's not the way that causes maximum pain. Maybe it's a sign they're getting close and they're just trying to ramp up the pressure. This is a very unconventional way of negotiating and striking. I think he's doing a good job of creating confusion."
None of the SUVs and pickup trucks built at the three plants are top sellers for the three automakers. They include the Chevrolet Colorado and GMC Canyon pickups and the Chevy Express and GMC Savana full-size vans, the Ford Ranger pickup and Ford Bronco SUV and the Jeep Wrangler, Jeep Gladiator and Jeep Wrangler 4xe plugin hybrid.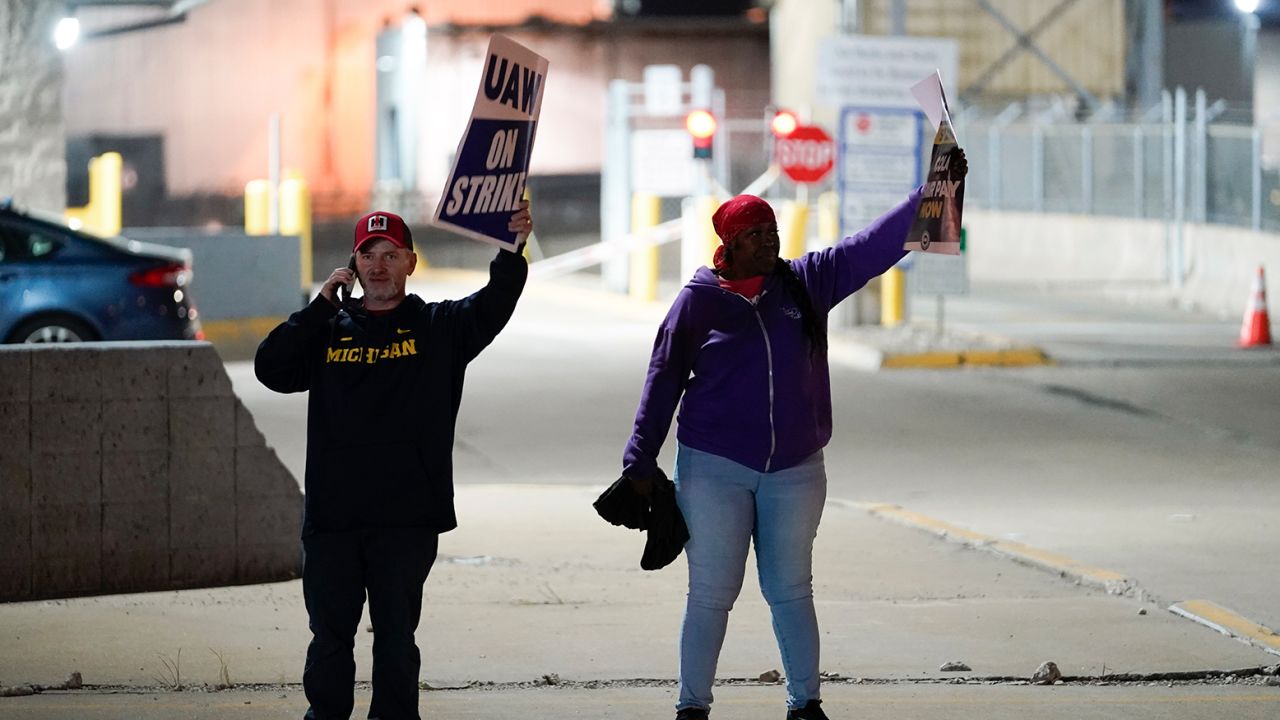 Fain told members Thursday just before the strike started that more workers may be called upon to walk off the job.
"If we need to go all out, we will," he told members. "We must show the companies you are ready to join the … strike at a moment's notice. And we must show the world our fight is a righteous fight."
But the automakers said that the UAW members will be hurt, not helped, by the union leadership's strategy.
"Ford has bargained in good faith in an effort to avoid a strike, which could have wide-ranging consequences for our business and the economy," said the company in a statement released two hours before the deadline. "It also impacts the very 57,000 UAW-Ford workers we are trying to reward with this contract."
Ford said striking workers who receive a $500 a week strike benefit from the union will only get a fraction of the wages they would have earned staying on the job. And it said workers' profit sharing checks could be "decimated" by the hit to Ford sales if the strike drags on.
Offers and counteroffers

The union went on strike despite offers from the companies to raise hourly wages as much as 20% over the life of the contracts. With a top existing hourly pay of $32.32, those offers would have taken the seniormost autoworkers to a base pay of more than $80,000 a year, not including overtime or profit sharing bonuses.
But the union started negotiations demanding an immediate 20% raise and four additional raises of 5% each during the life of the contract. It did lower those pay demands late in the negotiations, though apparently not enough to close the gap to the automakers' offers.
And it also had other ambitious demands meant to reverse concessions that the union agreed to in 2007 and 2009 when Ford was nearly out of cash and GM and Chrysler were hurtling toward bankruptcy and federal bailout.
Top on the union's hit list of past concessions was a demand to end a lower tier of pay and benefits for workers hired since 2007. While those workers can now achieve the same top hourly pay as the more senior workers, it can take them eight years in the company to reach that level.
The UAW also demanded a return of a traditional pension plan for those workers hired since 2007 instead of just the 401(k) plan they now have, as well as retiree health care coverage that those post-2007 hires don't receive but that more senior employees still enjoy.
The union also is demanding a return of cost-of-living adjustments (COLA) to protect them from higher prices. The union lost COLA in the 2007 contract. The union argued that because of inflation real wages have fallen in recent years, even as the companies posted record or near-record profits, automakers' CEO pay climbed up to 40%, and car prices soared to all-time highs.
The union also wants an end to forced overtime. Under the contract that expired Thursday, workers could be forced to work seven days a week for months at a time. And the union wants limits or an end to the use of temporary workers, who are paid roughly half of what senior workers are paid.
The UAW is also pushing for more time off, including raising the idea of a four-day, 32-hour work week without a drop in pay.
But beyond issues of pay and benefits, among the biggest issues underlying the talks is the union's concerns about job losses and plant closings. By the union's count, the three automakers have closed 65 plants so far this century, due to a combination of automation, outsourcing and the loss of market share to nonunion automakers.
And now the union is concerned that the automakers' plans to invest tens of billions of dollars each to convert from traditional gasoline-powered cars to a lineup of all electric vehicles will cost them more jobs in the future.
It takes fewer hours of labor to assemble EVs than gas-powered cars due to EVs having fewer moving parts. The automakers are racing to build a slew of plants to assemble massive EV batteries that will power the new cars, but they are planning on paying significantly lower wages than the wages paid to UAW workers at engine and transmission plants that would be at risk from the shift to EVs.